Following the Competition and Market Authority's (CMA) market investigation into the funeral sector it is compulsory that every funeral director has a Standard Price List.
The price list should be available on their website, in the window of their branch, and available to be taken away for reflection.
The Standard Price List should enable you to compare funeral directors on a like-for-like basis based on the CMA's attended funeral service and unattended funeral service specifications.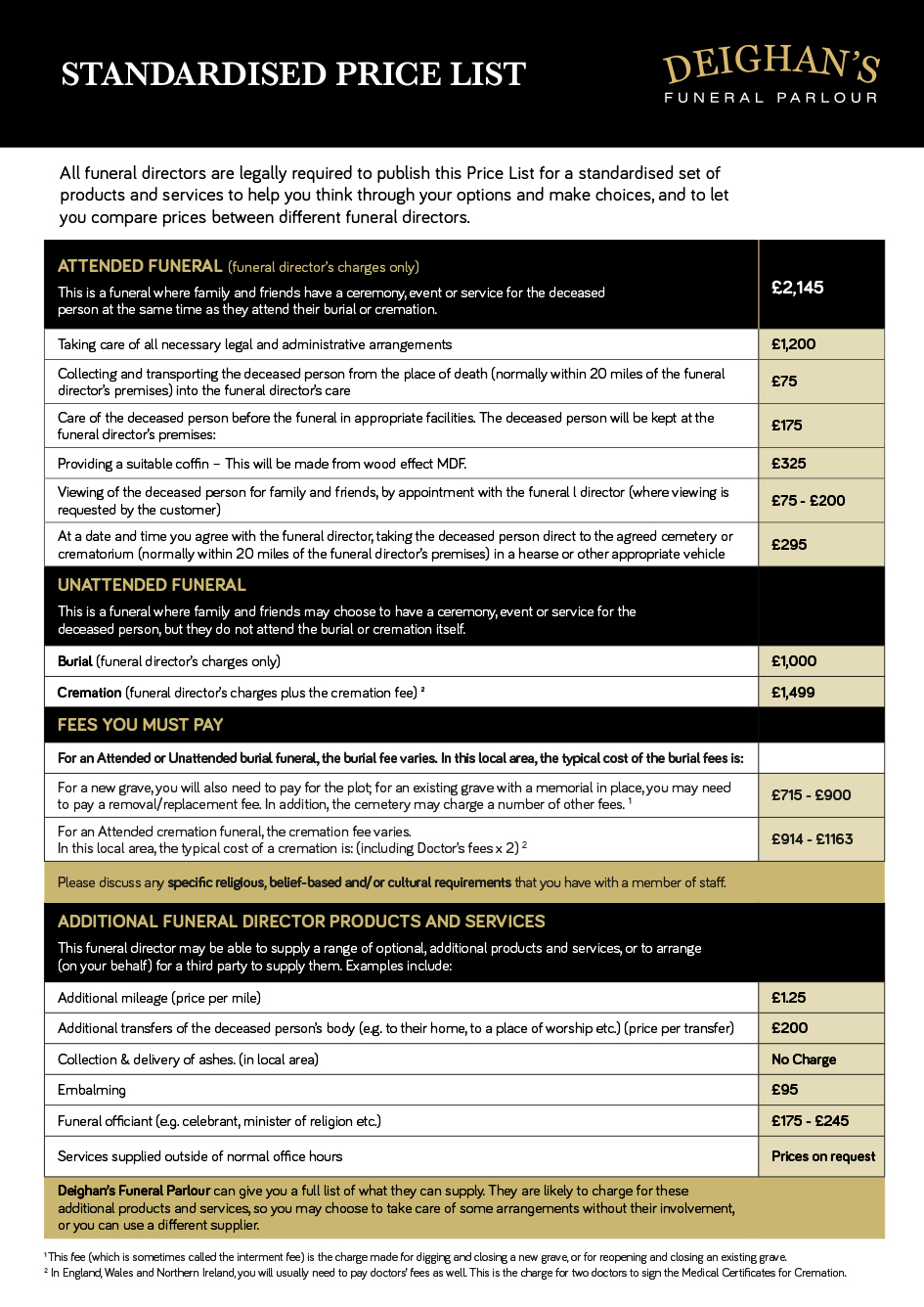 List of funeral fees
Our professional services include all necessary arrangements and documentation.

| | Table Header |
| --- | --- |
| Our Professional Services | £2,145.00 |
Includes a traditional coffin

Collection of the deceased* (24 hours a day)

Hygienic treatment

Dressing the deceased in his/her own clothes

Chapel of Rest to reside in

Hearse

Funeral conductor

Pall bearers

All necessary documentation for the funeral

Liaise with 3rd parties to arrange the funeral
Home visits if required
Collecting and storing ashes
Guidance on claiming help towards funeral costs
Counselling and after care for the family

Additional funeral directors costs;

– Additional transfer of the deceased persons body (eg home or to place of worship): £200
– Funeral Officant: £175-£245
* For collection of the deceased within a 20 miles radius. Thereafter, an additional £1.25 per mile.
*For funeral cortege within a 20 miles radius. Thereafter, an additional £1.25 per mile.
Direct Cremation
Also known as an 'Unattended Cremation,' a Direct Cremation includes arrangements and all necessary documentation, collection of the deceased at any time (we do not charge extra for out of hours or for oversized coffins), traditional coffin and cremation at a local crematorium.
Typical Adult Disbursements (Third Party Fees)
Typical adult disbursements are the costs incurred to carry out the funeral service by other parties. They may include for example;
Table Header
Cremation
£750.00 – £999.00
Doctors' Cremation Certificate
£82.00 each
Clergy / Celebrant Fee (may vary)
£175.00 – £245.00
Burial
£715.00 – £900.00
New Grave for Three People
(Includes cost to purchase and open the grave)
£963.00
Cremation Plot and Interment Fee from
(Includes cost to purchase and open the plot)
£760.00
Church fees (may vary)
£200.00 – £475.00
Other prices are available upon request.
Other services
We are also able to arrange:
– horse and carriage
– vintage vehicles and other options
Request a quote
If you are unsure of what level of service you require, we'll be happy to run through the various options and provide you with a no obligations quote. For more information and advice please contact us.